TrialwareDialog ActiveX Control

TrialwareDialog ActiveX Control is for software developers who are looking for a simple way to implement a trial version of their software product. The TrialwareDialog ActiveX Control works similar to the Microsoft Common Dialog control and simplifies the process of creating a trial version of your product by exposing properties and methods to create a simple trial dialog window to display to your users.
Best of all, TrialwareDialog ActiveX Control is currently being offered as a free download! Click here to learn how you can support our free software.
Features of TrialwareDialog
Select from two trial styles: number of days since first run or number of total runs. You select the number of days or runs by which to limit the trial.
Display your own company name, company web site URL, product name, description, and version, and copyright text on the trial dialog window.
"Buy" button allows you to interface the trial dialog window with your own purchase/registration methodology.
Sensitive data such as initial and last run dates and run counters are encrypted for your protection.
Click here to download a sample Visual Basic project that shows you how to implement the control (Visual Basic 6).
Our free software is offered on an "as-is" basis. No technical support is available.
Screenshots of TrialwareDialog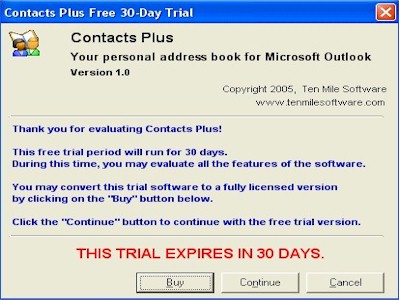 Set your trial to run a specific number of days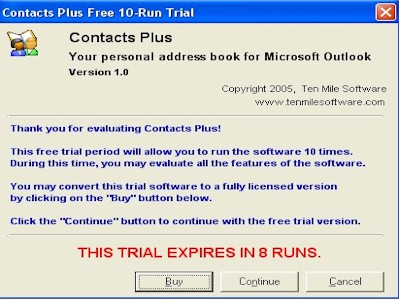 Set your trial to allow a specific number of runs.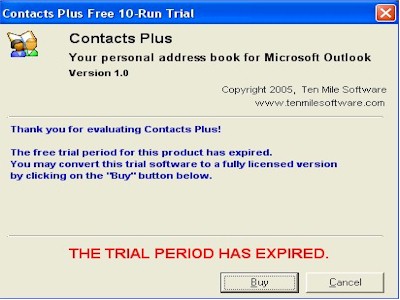 After the trial period has expired, the application will no longer open.
Support Free Software
We welcome donations in support of our free software offerings. Your donations encourage us to continue offering high-quality software free of charge. Just click on the button below to make a donation through PayPal.
When you click on the Donate button below, a new PayPal window will open, where you can log in to an existing PayPal account or sign up for a new one, and quickly and securely complete your transaction.